Ascent at The Phoenician® is announcing the winners of its Phoenician® Memories social media contest, in which participants shared annual traditions and their favorite experiences of staying at The Phoenician, from hiking Camelback Mountain, spending their 10th wedding anniversary at the iconic resort, to enjoying afternoon tea there with friends.
"The Phoenician® Memories Contest has been a fun way for followers of our social channels to reminisce about their favorite experiences at the iconic, AAA Five Diamond resort located next to our private, gated community of Ascent, which has quickly become one of Arizona's most coveted new luxury real estate offerings," said Todd Patrick, Replay Destinations' vice president of sales and marketing.
Participants from all over the country submitted their favorite memories. The contest was open in June and the winners were recently announced on social media.
Phoenician® Memories social media contest winners:
1st Place – Kaitlin Ruscello of Pennsylvania; also an Ascent Golf Villa buyer
Grand Prize: One-night stay at The Phoenician with dinner for two at the resort restaurant, Mowry & Cotton
2nd Place – Sonnie and Greg Carpenter of New Jersey
Prize: $250 gift card to The Phoenician
3rd Place – Carlye Klick of Arizona
Prize: $250 gift card to The Phoenician
Kaitlin Ruscello's memories: 
This last time we stayed at The Phoenician we brought our two children, 3 and 5. We introduced our 5-year-old to our favorite mountain, Camelback, where he climbed Echo in 43 minutes with no assistance! My husband is obsessed with challenging himself with a personal best time of 22 minutes and my personal best at 31! My daughter, age 3, absolutely loved the arts and crafts and games The Phoenician offered.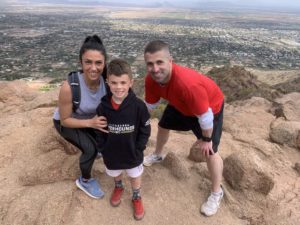 This last trip with our two wonderful travelers, even so young, and the love for outdoor sports and sun, we made the decision it's where we want to be! We decided to purchase a Golf Villa at Ascent at The Phoenician! We look forward to sharing the culture and all the wonderful activities Scottsdale has to offer with our family in the coming years and can't wait to be back to see progress of the building!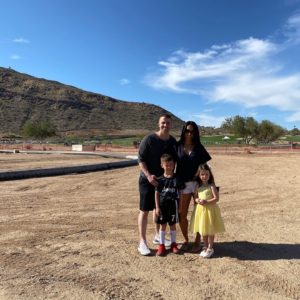 Sonnie and Greg Carpenter's memories:
It all started in 2005. We absolutely loved everything about The Phoenician. Our travel agent must have mentioned it was our anniversary because we were welcomed with anniversary greetings and a beautiful bottle of Champagne. We had a terrific time and we started falling in love with Arizona. Our 10th anniversary was extra special at The Phoenician.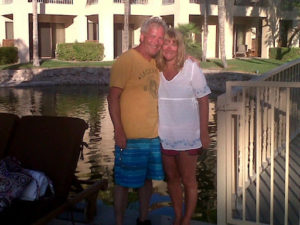 Over the years we've advised close to a dozen friends and family to check out our favorite place. They have loved it as much as we did. From all my Facebook posts, so many of my friends and family just drop by for a meal or drinks when they are in town. Then in 2013 I became The Phoenician's #1 Facebook fan for sharing so many posts!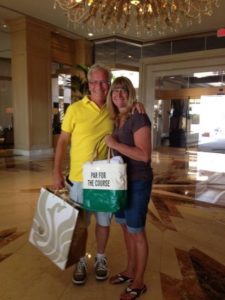 The people, the beauty of the desert and Camelback Mountain, the history, it's just everything that makes the resort our very own Oasis in the Desert for a week or long weekend each year that makes all our stress melt away in the scorching desert temperatures at the end of August each year for the last 15 years.
Carlye Klick's memories
Several years ago, me and three of my girlfriends went to tea for the first time and absolutely fell in love with The Phoenician! This lovely tea experience is unlike anything I had ever done before and we just loved the attention to detail, incredible staff, and delicious food and beverage, not to mention the great views! Since then, this has become our favorite tradition. We love getting dressed up for the occasion. I also want to give a shout-out to Wanda and Sabrina at the Afternoon Tea who have always taken such good care of us!