Discover five must-try show stopping cocktails in Scottsdale. All within a short drive from Ascent at The Phoenician®. It's a great time to try new restaurants and spice up your dining experience with one of these delicious and almost too pretty to drink cocktails.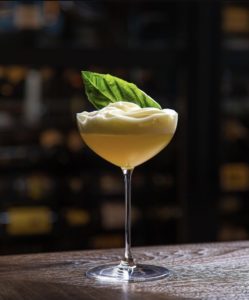 VERSACE ON THE FLOOR at The Americano
Ingredients: Serrano Fresno Chili Infused Vodka, Coconut White Balsamic, Mesquite Honey, Basil-Olive Oil Foam
An Italian-inspired steakhouse that is modern in approach and Italian in spirit, The Americano is a new concept by Chef Scott Conant. With an elevated, yet approachable menu it serves every taste, from fine steaks, such as prime and American Wagyu beef, to freshly made pasta, organic salads, Italian antipasti and Mediterranean seafoods including Italian crudi.
Follow The Americano on Instagram and facebook at @the_americano_restaurant
theamericanorestaurant.com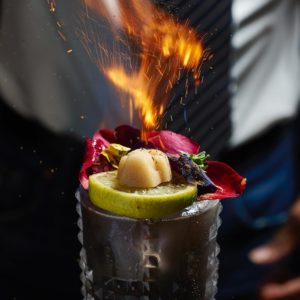 LOS MUERTOS at Toca Madera
Ingredients: el tesoro reposado barrel select, blood orange, lime, activated charcoal agave, hibiscus
Toca Madera is a modern take on traditional Mexican cuisine, featuring decadent flavors, unique plates and specialty craft cocktails while incorporating music, entertainment and ambience to create a fiery and unique experiential dining experience.
Follow Toca Madera on Instagram and facebook at @tocamadera
tocamadera.com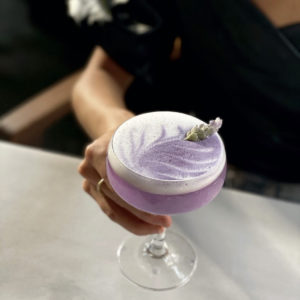 LAVENDER & SILK at Maple & Ash
Ingredients: Empress gin, Dolin dry vermouth, lavender honey, lemon, egg white & sunshine bitter mist
Maple & Ash is redefining today's steakhouse experience mixing a stylish modern aesthetic with world-class authentic service to deliver classic wood-fired dishes and a menu crafted by two-Michelin-star Chef Danny Grant.
Follow Maple & Ash on Instagram and facebook at @mapleandash
mapleandash.com
FORBIDDEN FRUIT at Farm and Craft.
Ingredients: freshly blended fruit juice cocktail served inside of a watermelon
Cucumber Melon – cucumber vodka, lemon, watermelon, mint, organic agave
Spicy Melon – Hanson's habanero vodka, lime, watermelon, organic agave
Farm & Craft is focused on healthy and sustainable food in a community-style atmosphere. Think modern farm with a fun contemporary twist. F&C boasts a seasonal "Wellness-Menu" featuring four paths to optimal health all accomplished by providing sustainable, gluten-free, organic, and hormone-free ingredients.
Follow Farm and Craft on Instagram and facebook at @farmandcraft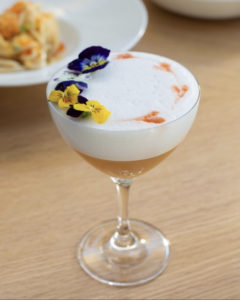 FAIRE LE PONT at Francine (means long weekend in French)
Ingredients: features bourbon and foamy egg white that tickles the taste buds and topped with a small bouquet of edible flowers.
Francine offers artfully plated vibrant French Mediterranean cuisine and handcrafted cocktails in an airy, elegant atmosphere exuding the rustic charms of the south of France, homeland to celebrity chef-founder Laurent Halasz (Fig & Olive). French-trained executive chef Brian Archibald eloquently re-creates specialties of the region, including salad Niçoise, oil-poached tuna, panisse, and bouillabaisse.
Follow Francine on Instagram and facebook at @francinerestaurant
francinerestaurant.com